Home
Location
Butterfly House
Larva House
Nursery
Life Cycle
Contacts
National Park
La Ceiba
Lodge
Museum
Copan
Snakes
Butterflies
Get There
Cost
Click on any picture to see it bigger. Click on the butterfly names to see the butterfly picture.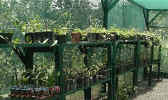 The nursery is a very important part of the butterfly farm. This is where all the plants are grown to feed the larvae. Different butterfly larvae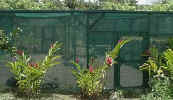 prefer different kinds of plants. Heliconius charitonius for example, likes Passiflora biflora (Passifloraceae). Caligo memnon, one of the owl's eye butterflies feeds on Heliconia and Musa. Thousands of plants are needed for the voracious appetites of the larvae. One larva can eat a whole leaf in a single day.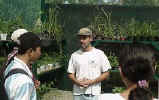 Some of the plants grown in the nursery at this butterfly farm include:
| | | |
| --- | --- | --- |
| Passiflora spp. Passionvines | Dalechampia | Aristolochia spp. Pipevines |
| Citrus Orange Trees | Piper sp. | Alchornea sp. |
| Cassia spp. Legumes | Cecropia peltata | Acanthaceae |
| Solanum sp. | Asclepias curassavica Milkweed | Pterocarpus sp. |
Apriete el botón en cualquier foto para verla más grande.
El vivero es un componente muy importante. Aquí es donde se cultivan las plantas que servirán para alimentar a las larvas. Distintas larvas necesitan distintas plantas. Por ejemplo, la larva de la mariposa Heliconius charitonius se alimenta de la planta Tetgrastylis lobata (Passifloracear). La larva de la mariposa Caligo memnon, la mariposa ojo de buho, come Heliconia y musa. Se necesitan miles de plantas para satisfacer los apetitos voraces de las larvas. Una larva puede comer una hoja al día. La tabla de arriba contiene una lista de algunas de las plantas hospederas.