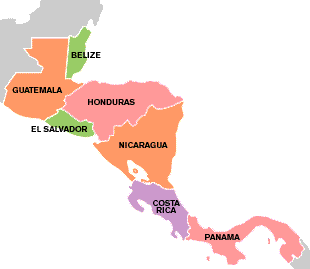 Honduras is located in Central America which is south of Mexico. The country is bordered by Guatemala, El Salvador and Nicaragua.

Area: 112,090 sq. km.
Population: 5,700,000
Religion: 97% Roman Catholic; Protestant minority
Government: Republic divided into 18 departments
International phone area code: 504
Climate: subtropical in lowlands; temperate in mountains
Terrain: mostly mountains in the interior; narrow coastal plains
Highest point: Cerro Las Minas 2,870 meters
Industries: Sugar, coffee, textiles, clothing, wood products
Agriculture: Bananas, coffee, shrimp, citrus, pineapple, beef, timber

Click on the Honduras map to see it enlarged.

For more detailed information about Honduras check out the following websites:
http://www.honduras.com
http://www.lonelyplanet.com/dest
Honduras se encuentra en Céntro América que está al sur de México. El paíis es fronterizo a Gutemala, El Salvador y Nicaragua.
Area: 112,090 kilómetros cuadrados
Población: 5,700,000
Religión: 97% Católicos Romanos; minoría Protestantes
Gobierno: Repúblicano dividido en 18 departamentos
Código de area de teléfono: 504
Clima: tropical en las áreas bajas; templado en las montañas
Terreno: montañoso en el interior; planicies angostas costeñas
Punto más alto: Centro Las Minas 2,870 metros
Industrias: azúcar, café, textiles, ropa y productos de madera
Agricultura: bananos, café, cítricos, piñas, madera, ganado y camarones
Puede encontrar más información sobre Honduras en los siguientes sitios de Internet:
http://www.honduras.com
http://www.lonelyplanet.com/dest